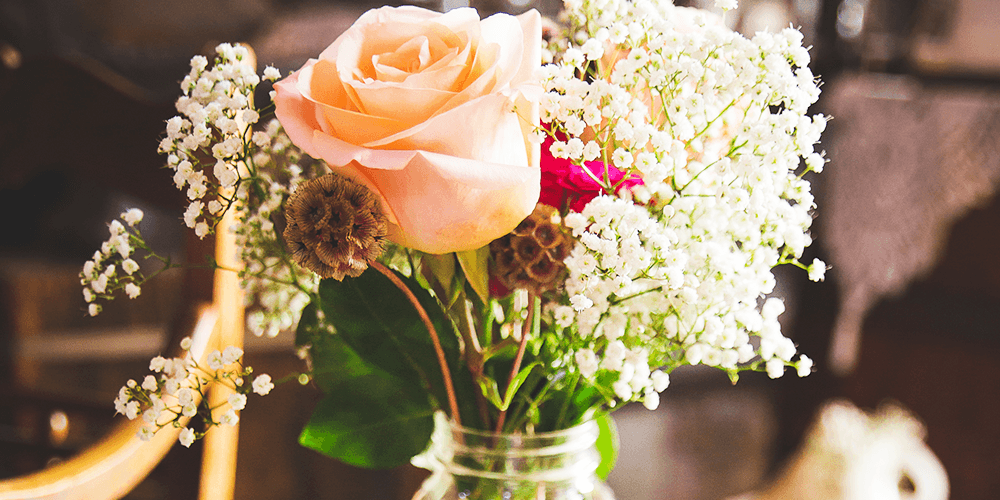 Mason jars are one of the most versatile vessels out there; they are amazing in the kitchen, great for storing small things, and make affordable and adorable vases for flowers! A mason jar full of flowers has become an iconic aesthetic for a rustic country wedding.
The jars are good for more than weddings, though! They are fantastic for decor and can be utilized for holiday decorations as well. Wherever you use them, they bring a comforting element of "home" to your decor.  
Here are some creative ways you can spice up your mason jar use!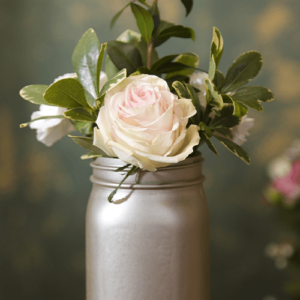 Vase Variations
Mason jars make great vases because they're affordable and charming. Glass is timeless and will go with literally any decor. Whether you arrange with roses and foliage or put together a simple lavender and baby's breath arrangement, the mason jar is sure to brighten the whole aesthetic and give it a homey feel.  
When choosing a mason jar, consider the mouth of the jar""a narrow mouth will give your flowers more upright support but could be constricting for a dense arrangement or unnecessary for shorter stems. Widemouth jars offer lots of room to arrange but will not support long-stemmed flowers very well""so place wire on the inside to support your longer stems or opt for florist foam ( the foam can be hidden by adding ribbon or other decor to the outside of the glass).
Short, wide-mouth mason jars are ideal for holding single blooms. Fill the jar with water to an inch below the top, then place a large bloom, such as a daisy or large rose. This look is subtle and elegant and could take on a minimalist or modern flair with multiple small arrangements placed in a line along the centre of your dining table.
If your mason jars are starting to look repetitive and you want more variety, consider placing other antique glassware alongside them, or opt for evergreen garland and berries for a seasonal flair. For added colour, look for antique mason jars that come in various muted blue and green shades of glass.
Decorate the Jar

Once you have decided how to use your jars, consider adding extra customization.  
Decorate the outside of your jar by painting it or wrapping it with burlap and lace. Tie decor items to the neck of the jar, such as little pinecones or sprigs of green for the holidays. Brighten the aesthetic by adding fairy lights into the bottom of the vase and then add sprigs of dried flowers.
Incorporate Candles
Candles are great for decorating during any season. Mason jars make fantastic tea-candle holders but need a little spice to make them visually interesting. Try wrapping sprigs of lavender or herbs around the jar with string for a decorative exterior and glowing centre.

During the holidays, fill a mason jar halfway with water, add a floating candle and some cranberries""multiples of these alongside sprigs of greenery are perfect to add simple holiday decor to your home. Of course, you can use this design concept any time of the year with different fresh foliage and greenery in the home.  
Head to The Salisbury Floral Studio at Enjoy if you're ready to fill your mason jars with fresh flowers and greenery. We'd love to help you bring your vision to life!