We know you're actively enjoying the cold Alberta winter as much as we are, but we also know you probably long for those gorgeous spring and summer hues and the smell of fragrant flowers that comes with them. In fact, flowers are known to stimulate the "happy chemicals" in our brains, like serotonin, dopamine, and oxytocin. With that kind of pep power, it makes sense to fill your indoor spaces with blooming flowers year-round! If you're in need of a serious serotonin boost this winter, here are a few flowering plants you can enjoy right now, no matter the weather outside: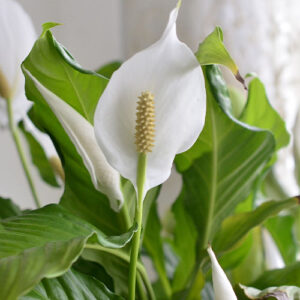 The Peace Lily
Not a true lily, but still pretty! Peace lilies are flowering tropical evergreens that produce crisp, white blooms all winter long. They adjust fairly well to the limited winter daylight, but do prefer a moist environment. For best results, place your peace lily on a pebble tray with water and keep it in a place that gets bright, indirect sunlight at some point during the day.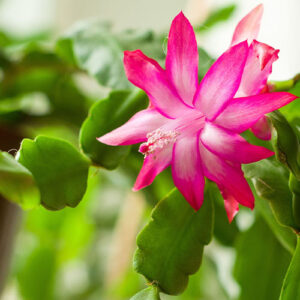 The Christmas Cactus
A true winter delight, the Christmas Cactus is a holiday decor favourite with its bright winter blooms of red, pink, or white. Though this winter flowering plant is a species of cactus, it actually prefers a humid environment with bright, indirect sunlight, thanks to its origins in the humid forests of Brazil. They also like being root-bound, so you don't want to repot these winter gems too frequently. With the proper care, your Christmas cacti can live for up to 100 years; just think about how much happiness that equates to!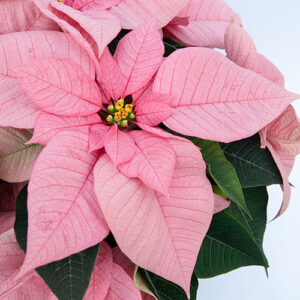 The Poinsettia
Most people are familiar with these colourful, flowering plants, as they're all the rage during the holiday season. While most of the world uses these dazzling flowers as throwaway holiday ornaments, in their native Mexico, poinsettias are perennials that often grow into large, woody shrubs and trees, sometimes reaching up to 10 feet tall! Because of their tropical origins, poinsettias need lots of bright, indirect light, warmer indoor temperatures, and consistent moisture to survive. However, with the proper care, you can enjoy this winter flowering plant well past the holidays!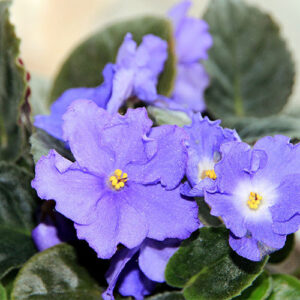 The African Violet
Despite their reputation for being somewhat finicky, African violets are excellent flowers to brighten your home—and your mood—year-round. These pretty winter flowering plants bloom several times a year and come in many vibrant colours and varieties, so you're sure to find one to cheer up your indoor space this winter. As an added bonus, they're also pet-friendly! African violets prefer warm, humid, and bright conditions, but make sure they don't get too much direct sun; like many plants, direct exposure to sunlight can scorch their leaves.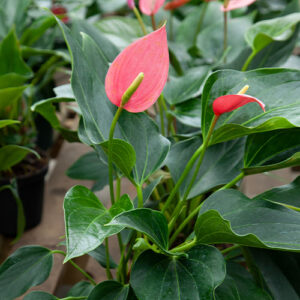 Anthurium
These unique, tropical houseplants are always a favourite, thanks largely to their low-maintenance care needs and air-purifying qualities. Their stunning waxy flowers bloom in a variety of rich hues, providing a desperately-needed pop of colour during those drab winter months; just give these plants a warm, humid place to grow and bright, indirect light, and you'll be rewarded handsomely! Be mindful that anthurium plants are considered toxic to both humans and pets, so make sure you keep these indoor beauties away from any curious hands, mouths, and snouts!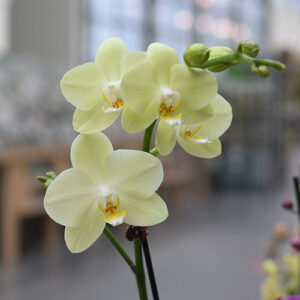 Moth Orchid
Though these exotic-looking blooms can be intimidating, rest assured that moth orchids are quite easy to care for! These are some of the most beautiful additions to your winter home if you need something cheery to keep you going. With a variety of stunning colours like white, purple, pink and yellow, you're sure to love these tall tropical flowers all year round! Just like any other tropical plant, moth orchids prefer high humidity and bright, indirect light. Just be careful not to overwater your moth orchids or leave them in standing water, as this can suffocate the plant and promote rot.
If you're in need of some plant therapy and are looking for winter flowering plants in the Edmonton area, we've got you covered! Come visit us at Salisbury Greenhouse in Sherwood Park, AB, today to find everything you'll need to lift your spirits and make this winter a little more cheerful.