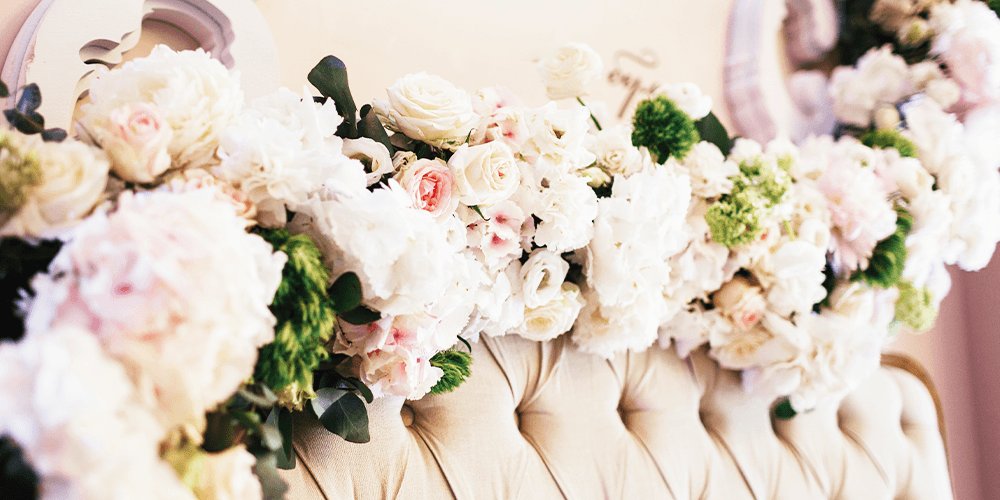 Garlands can make a lovely addition to any event florals, be it at a wedding, retirement, anniversary, or even as sympathy flowers.
Materials for a DIY Flower Garland
Green florist's tape

Twine, cut to the length you'd like your garland

Florist's wire

Lots of lush greenery

Assorted flowers  
Try to choose flowers that aren't too delicate and will dry nicely, so you can keep your garland out for several days without it falling apart. These are some of our top choices for making a gorgeous garland that lasts:
Statice

Roses

Hypericum berries

Chrysanthemums

Ranunculus
How to Make Your Flower Garland
Take your twine and lay it out on a large, clean workspace. You'll want to leave about 6 inches on either side of the twine so you can hang it up. Take your pieces of greenery one by one and attach the stem to the twine with a small piece of florist's tape. Layer the pieces, attaching each one a few inches further down the twine than the previous piece. This will make for a nice, even base for your garland. Once you've completely covered your twine with greenery, you're ready to prepare your flowers.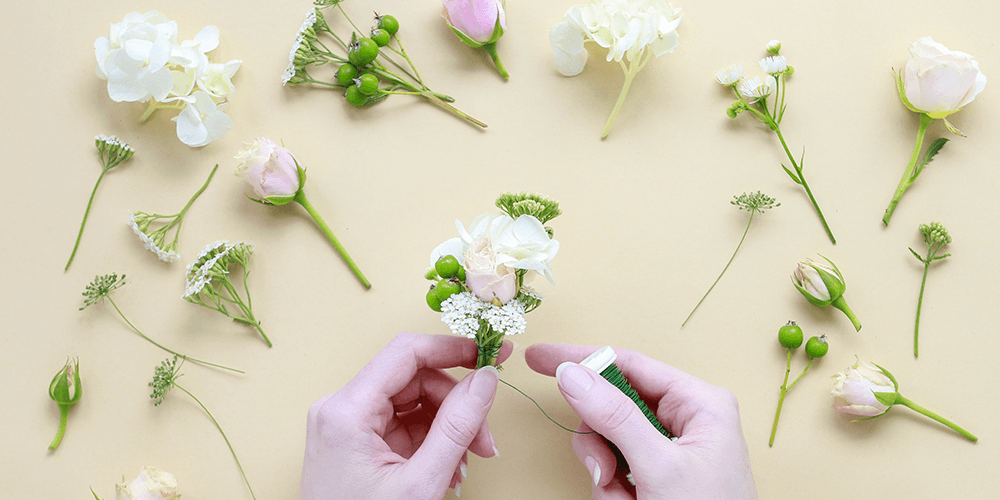 To make your garland project less time-consuming, it's a good idea to prepare tiny bundles of flowers beforehand instead of attaching them one by one. Take four or five flowers, cut the stems to about 3″"4 inches long, then wrap the stems together with a small piece of florist's tape. Prepare lots of these bundles""however many you'll need to fill the length of your garland with plenty of colour. Save some large flowers for the end to fill in any gaps you may have missed.  
Take your flower bundle, nestle it into the greenery, and then secure it to the garland with a piece of florist's wire. Keep repeating this process until you've worked all the way through to the end of your garland. It's repetitive work, but there's something very relaxing and meditative about it, so we recommend putting on a good playlist!

You'll want to display your garland as soon as you can""if possible, prepare it the morning before your event, so it looks as fresh as possible. Here are some creative ways to display your DIY flower garland:
Use it as a table runner

Embellish the bar cart

Tack it over an entryway

Attach it to the mantle

Hang it on the wall like a banner
You'll be so pleased with the finished product, and your guests will no doubt be impressed by the colourful custom-made floral display. Don't be surprised if your friends and family start commissioning you to make some for their next big celebrations!  
Salisbury Floral Studio has everything you need to make a DIY flower garland in Alberta. Beautiful flowers, textured greenery, and all the bells and whistles are easy to find here at our floral studio. If you're new to DIY design and need some help picking out flowers within a colour scheme, don't hesitate to ask one of our experts to help you put together a pretty assortment! We love helping make your vision come together.