It's that time of year again! Valentine's Day is fast approaching, meaning the prospect of finding a Valentine's gift is likely stumping quite a few of you. If you find yourself short on creative gift ideas but know your sweetheart is fond of plants and flowers, we've got some great ideas to make your Valentine's Day the start of something beautiful!
A Brief History of Valentine's Day
You always notice the sea of pink and red that floods stores and gift shops at this time of year, but did you ever ask yourself why we celebrate Valentine's Day? 
It all started many, many centuries ago with a somewhat vague celebration called Lupercalia. This ancient Roman festival celebrated the coming of spring and included fertility rites and the pairing up of men and women. Initially banned by Pope Gelasius I in the 5th century, Valentine's Day slowly made its long and amorous way back into present-day society, picking up a few modern traditions along the way. Here are some of our favourites: 
Chocolates: You can thank Richard Cadbury for this one, along with his genius marketing of the heart-shaped chocolate box!


Cupid: Cupid symbolism is quite old and originates from the handsome young Greek deity, Eros. Cunning, manipulative, and said to make anyone fall in love, Eros was later tamed to make his image more marketable. Nowadays, he's known as the infant cherub Cupid. 


Flowers:

we're glad this is still a big part of Valentine's Day! Flowers—specifically roses—are a big part of this romantic holiday due to their association with the Greek goddess of love, Aphrodite. 
Flower Colours and Their Meanings
If you're hoping to get creative with flowers for your sweetie, you can make their bouquet even more meaningful by sending them messages through the flower colours you choose! Here is a list of flower colours and their meanings throughout history:
Red:

The most common colour for a Valentine's Day rose, red represents passion, lust, desire, and romance. If it's romantic love you've got in mind, a dozen red roses are considered the gold standard of Valentine's Day gifts.
Pink:

 A bit softer than red, pink flowers represent a playful approach to love and courtship or a deep friendship with reciprocated platonic love.

 

White:

White flowers represent honesty, innocence, and the purity of the giver's intent. Get creative with a bouquet this year by mixing white flowers with reds and pinks to show the sincerity of your feelings!

 

Blue:

Believed to be a colour of commitment, blue flowers communicate trust in a relationship. Bolster an intimate, open atmosphere by pairing blue with white and pink. 
Creative Gifts for Your Special Valentine 
With so many choices for Valentine's Day gift ideas, how do you choose the one that perfectly shows how much you care? While flowers and chocolates are always nice, try some of these new and creative ways to express your love this year: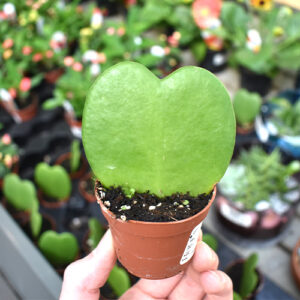 Plants
Plants are quick and easy Valentine's Day gift ideas, but that doesn't mean they aren't awesome! One of the coolest plants to get for your V-Day pal is the Hoya kerrii. This vining succulent has heart-shaped leaves and is easy to care for, making it a truly creative Valentine's gift.
 If you're looking for another sweet plant idea, the String of Hearts makes for another unique Valentine's Day gift. This trailing succulent hails from South Africa and loves the heat and bright, indirect light. You might also want to consider gifting your sweetheart some enticingly aromatic plants, like jasmine, lavender, and—of course—roses!
Keep in mind that many of the single-leafed plants you see around Valentine's Day, such as the single-leaf Hoya Kerrii, are likely to never grow any more leaves. These are rooted leaves and not true stem cuttings, so if it's the longevity you want, stick with a properly rooted plant instead! 
The Floral Shop
Why not give that special someone a unique gift from our amazing floral shop! Combine treats and flowers with The Total Package–an indulgence for all the senses, or pick a luxury floral arrangement like The Kiss. We've also got some stunning flower covered hat boxes that are sure to wow your Valentine this year.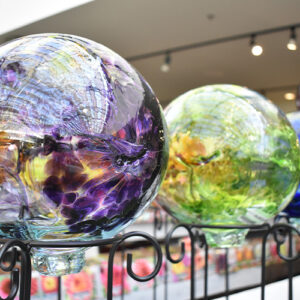 Garden Gift Ideas
Not all Valentine's Day gifts have to include plants, although, in our minds, they probably should! Here are a few more creative ideas for a day to remember:
Garden art:

Statues, wind chimes, wall hangings, and even decorative glass balls all make for stunning, unique, and practical gifts this Valentine's Day.

Bird stuff:

If your Valentine loves birds, go with birdhouses, feeders, fountains, or seeds.

Seeds:

If your Valentine is a real DIY planter, consider a mixed seed basket! A variety of seeds is an excellent gift to help them prepare and get excited for the spring planting season ahead! 
We hope our gift guide has given you some romantic ideas for Valentine's Day this year, but if you're still stuck and are looking for where to buy Valentine's Day gifts in the Edmonton area, we've got you covered! Drop into Salisbury Greenhouse today, and we'll help you get creative in sweeping that special someone off their feet this year.