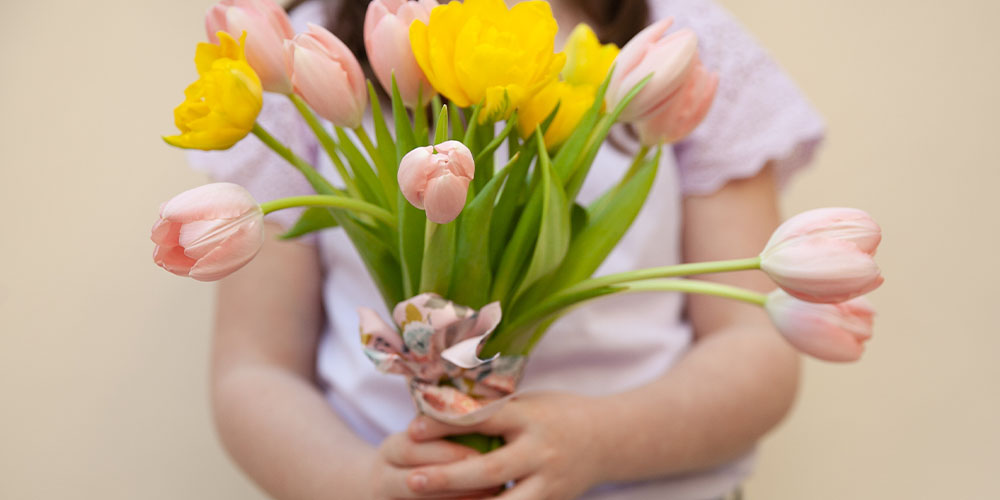 A beautifully curated flower arrangement is always a perfect gift for Mom, but flower shops can be an absolute zoo on Mother's Day! If you want to be sure you get the perfect bouquet and not the picked-over remains of the grocery store floral department, order flowers online from Salisbury. We have so many stunning arrangements in a huge variety of colours and sizes to fit every budget.  
Browse Our Catalogue of Mother's Day Flowers Available for Online Delivery
Flowers are kind of our thing. Place that online order for one of our Mother's Day arrangements, and there's no doubt you'll knock this gift out of the park. Whether you're buying for your Mom, your partner, or any mother figure in your life, these flowers will make this year memorable.  

What's Mom's Favourite Colour?
Pick a colour, and we'll put together an ultra-vibrant assortment of flowers in your chosen shade with a pretty vase to match! This cute, customized arrangement is available in the following colours:
White

Yellow

Purple

Pink

Blue

Watering Can
Instead of the traditional vase, this sweet spring arrangement comes in a pastel-coloured watering can that Mom can use later! Our floral designers will choose the colour palette and florals depending on availability, but if you have any special requests, you're welcome to add them to your card message box.  
Lux Orchid Vase
Our longest-lasting arrangement, complete with an elegant glass cylinder vase! We fill the bottom with ornamental pebbles and some fresh water, then add several stems of lush, exotic orchids. Replace the water every day, and you can expect these flowers to last up to two weeks.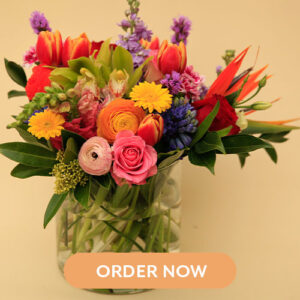 Large Mixed Flowers
Go big or go home, right? If you want to go all out for Mother's Day this year, this behemoth bouquet will make Mom's jaw drop! With maximum colour and visual impact, we packed this mixed assortment with so many different flowers and textured foliage that brightens the room.

Hat Box – Garden Party  
This retro-inspired arrangement has a collection of mixed flowers, moss, and fancy greens in a pastel hatbox, complete with a lid so she can reuse the box later. It will look perfect on the vanity table or wherever Mom gets ready every morning. Available in two sizes: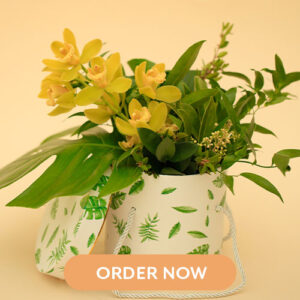 Hat Box – Green Thumb
For the modern hipster Mom with cool, creative style and an affinity for plants and flowers, get the Green Thumb Hat Box! It has yellow flowers and lush greens nestled in a hatbox featuring a watercolour leaf motif. The botanical print and simple colour scheme of this arrangement will hit all the right notes, perfectly fitting right in with the Anthropologie kitchen decor and boho accessories.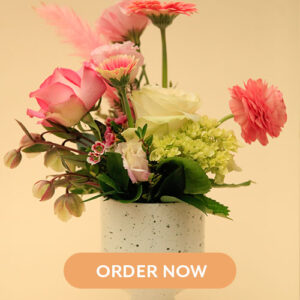 Pampas Ceramic
Trendy, feminine, and perfectly Instagrammable""that's a word, right? This speckled ceramic pot has pink and pastel blooms with a feathery tuft of pink pampas grass nestled inside. Mom can reuse the pot afterwards for a 4″ houseplant!
Floral Drawer

This unique spin on a flower arrangement features a repurposed wooden drawer with a gorgeous floral motif printed on the front. We go extra vibrant with this floral colour scheme, using flowers with rich jewel tones like purple, blue, red, and magenta. Available now in these three sizes:  
Mini Drawer
Go for a more rustic, modern farmhouse look with this antique-style white drawer filled with Gerbera Daisies and other charming flowers. The drawer is great for storing jewelry or makeup afterward.  
Tulip Vase

Simple, yet stunning""dreamy Ranunculus and Tulips in warm, peachy colours are as beguiling as a still life oil painting. Their layered, luscious petals have such fabulous texture! Bring these into Mom's kitchen, and it'll be golden hour all day long.  
Wild Earth Bakery Treats
Even if Mom is allergic to flowers, you can get her a gorgeous bouquet she'll love! These spring-inspired cookie arrangements feature flowers, butterflies, hearts, and a bounty of other sweet, sentimental treats. I know it's a cliché to say they almost look too good to eat, but wow""these cookies are next-level beautiful.  
Want to see even more flowers for sale online in Edmonton? Browse through the Salisbury Floral Studio catalogue and see all the swoon-worthy arrangements available now for pickup or local delivery. Tell Mom we said happy Mother's Day!