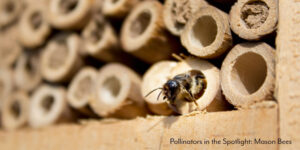 Earth Day is just around the corner, and there's no better way to celebrate than by creating a pollinator-friendly garden. Pollinators such as bees, butterflies, and other insects play a vital role in maintaining healthy ecosystems and securing our food supply. According to the Food and Agriculture Organization of the United Nations, pollinators are responsible for pollinating more than 70% of the world's crops. If you live in Edmonton, Alberta, there are plenty of ways to create a beautiful and beneficial garden for pollinators.
First, consider planting a variety of flowers and plants that are attractive to pollinators. Some of the best options for Edmonton's climate and zone include milkweed, asters, bee balm, and lavender. These plants are not only beautiful but are also a great source of nectar and pollen for pollinators.
It's essential to choose plants that bloom at different times throughout the year to provide a continuous source of food for pollinators. For early bloomers, consider planting crocuses, snowdrops, and daffodils. As the season progresses, add lilacs, peonies, and poppies to your garden. For late bloomers, try planting sedum, asters, and goldenrod.
Another way to support pollinators in your garden is to provide shelter and nesting areas. You can do this by leaving some areas of your garden untended, such as a pile of leaves or a patch of bare ground. You can also install bee houses for Mason bees, which are excellent pollinators that lay their eggs in small cavities.
When creating a pollinator-friendly garden, it's important to avoid using pesticides and herbicides. These chemicals can be harmful to pollinators and disrupt the delicate balance of your garden ecosystem. Instead, try using natural methods like companion planting or beneficial insects like ladybugs and praying mantises to control pests.
Edmonton is located in zone 3, which means the area experiences cold winters and relatively short growing seasons. To help your pollinator garden thrive, choose plants that are hardy enough to survive the winter and can tolerate a short growing season. Some additional pollinator-friendly plant options for zone 3 include coneflowers, black-eyed susans, phlox, and daylilies.
Creating a pollinator-friendly garden is not only good for the environment but also a fun and fulfilling experience. By observing pollinators as they visit your garden, you can witness firsthand their important role in pollinating plants and contributing to the ecosystem. So why not take the first step towards creating a garden that supports pollinators in Edmonton? By doing so, you'll be making a positive impact on the planet and helping to ensure a healthy future for all of us.
Happy Earth Day!